New UIL Sightreading Music for 2023
Available Now!
UIL Sightreading titles used during the 2023 assessments season are now available for purchase to help you prepare for next school year. All new tiles have preview scores to review to help you select pieces that fit your ensemble.
Click the button below to review new titles for Choir, Concert Band and String Orchestra.
RBC Publications is proud to collaborate with University Interscholastic League to provide musical pieces for the sightreading portion of UIL's assessment. These pieces work perfectly for practicing sight reading with your ensemble when preparing for future assessment.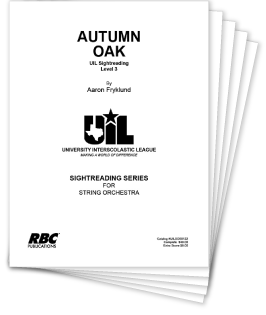 Coming soon from RBC Publications...
a comprehensive catalog of performance music for all grade levels.
Be the first to hear about new releases, specials and news from RBC Publications